Special Parasailing edition. Come and enjoy an incredible sunset experience flying 150 meters over the sea. One of the most beautiful experiences that we have offered in the last years
Oferta 2×1
Por cada moto que alquiles, llévate otra totalmente gratis. Ejemplo de reserva correcta: Si quieres alquilar dos motos de agua, solo tienes que hacer la reserva de una y si quieres reservar cuatro, tienes que hacer una reserva de dos. 
(Solo válido todo los Viernes de Octubre para salidas de 40 min o más)
 Prices
Departure at 7pm
People
Price
1 person
60€

80€

2 people
100€ (50€/person)

150€

3 people
135€ (45€/person)

200€

4 people
160€ (40€/person)

250€
 What the price includes?
Flight in Parasailing 8-15 minutes according to conditions for each person + Speed boat navigation. (Total duration: 1h aprox.)
All necessary equipment is included.
Photos of the experience
Glass of wine included after the activity.
Showers, changing rooms and lockers.
Liability insurance.
 What do I need to know or bring?
It will be necessary to bring the ID or identity card of all participants.
Activity suitable for children.
We recommend bringing towels and a swimsuit.
The activity may be postponed or delayed due to weather conditions.
 What will we do?
As usual, at JetScoot we take the experience in water sports to another level. This time we premiered our Parasailing promotion to fly in the afternoons. In those hours the conditions are perfect and you will also enjoy even more spectacular views. All this for an incredible price.
Perhaps the most beautiful moment of the day to do Parasailing. Enjoy a beautiful sunset while parachuting while listening to chillout music on our boat. The perfect sunset in Barcelona!
 An ideal experience for groups
You can fly up to 4 people at the same time! Share your flight in Parasailing with your friends, your partner or your family … An authentic plan to have fun in a different way.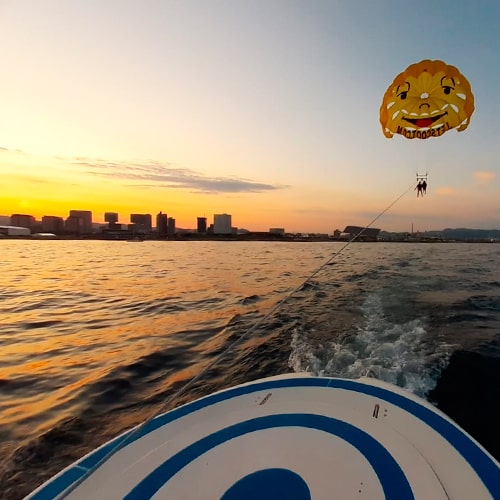 Where will we be?
The activity will take place at our JetScoot location located in the Port Fòrum of Barcelona, a modern and sports port built a few years ago. It is relatively close to the Diagonal Mar shopping center and can be easily reached by car or public transport such as metro and tram.