2×1 Offer
For each Jet Ski that you rent, get another one free. . Example of a correct reservation: If you want to book 2 jet ski, you only have to book 1 or if you want to book 4, you have book 2.
(Only available until Mai 31)
*Offer valid for residents in Catalonia. DNI, NIE or any document that proves it will have to be shown. Otherwise, the normal price will apply.
Jet Ski Prices List
Few Jet Ski rental sites have the prices we offer.
Time
*Online Price
Deposit
30 min
99€

125€

200€
1h
180€

200€

200€
*Exclusive prices only available for online bookings
What does the price include?
Explanation and introduction on proper driving with a Jet Ski.
Driving on Jet Ski for 1 or 2 people according to the minutes contracts.
All the equipment is included (vest, neoprene …)
Showers, dressing rooms and lockers.
What do I need to bring or know?
You can bring a passanger (minimum height 1,30m) with no extra cost.
Only those over 18 years old can drive alone, people with 16 or 17 years old can do so only if their legal parents physically present themselves at our premises to sign an authorization.
It is mandatory to bring the identity card of all participants.
It is necessary to leave 200€ deposit for each jetski on the same day that the activity is performed, which will be returned in the same way as was paid once the service has been completed.
No license is required.
The activity can be postponed or canceled due to weather conditions.
What will we do?
The best thing to do in Barcelona is to rent a jet ski and enjoy the views of the city from the sea
We put it very easy and with prices you will not find anywhere else in the city. Barcelona is the perfect place to do all the water activities you want.
Rent a Jet Ski and discover a different Barcelona!
 License not required
If you've never been on a jetski do not worry, because our monitors will give you all the instructions so you can control it right away.
So, after a quick demonstration of how the jetski works and what needs to be done in every situation, we will go out to sea to enjoy this wonderful experience.
You just have to be in the mood to have fun, we put the rest of it!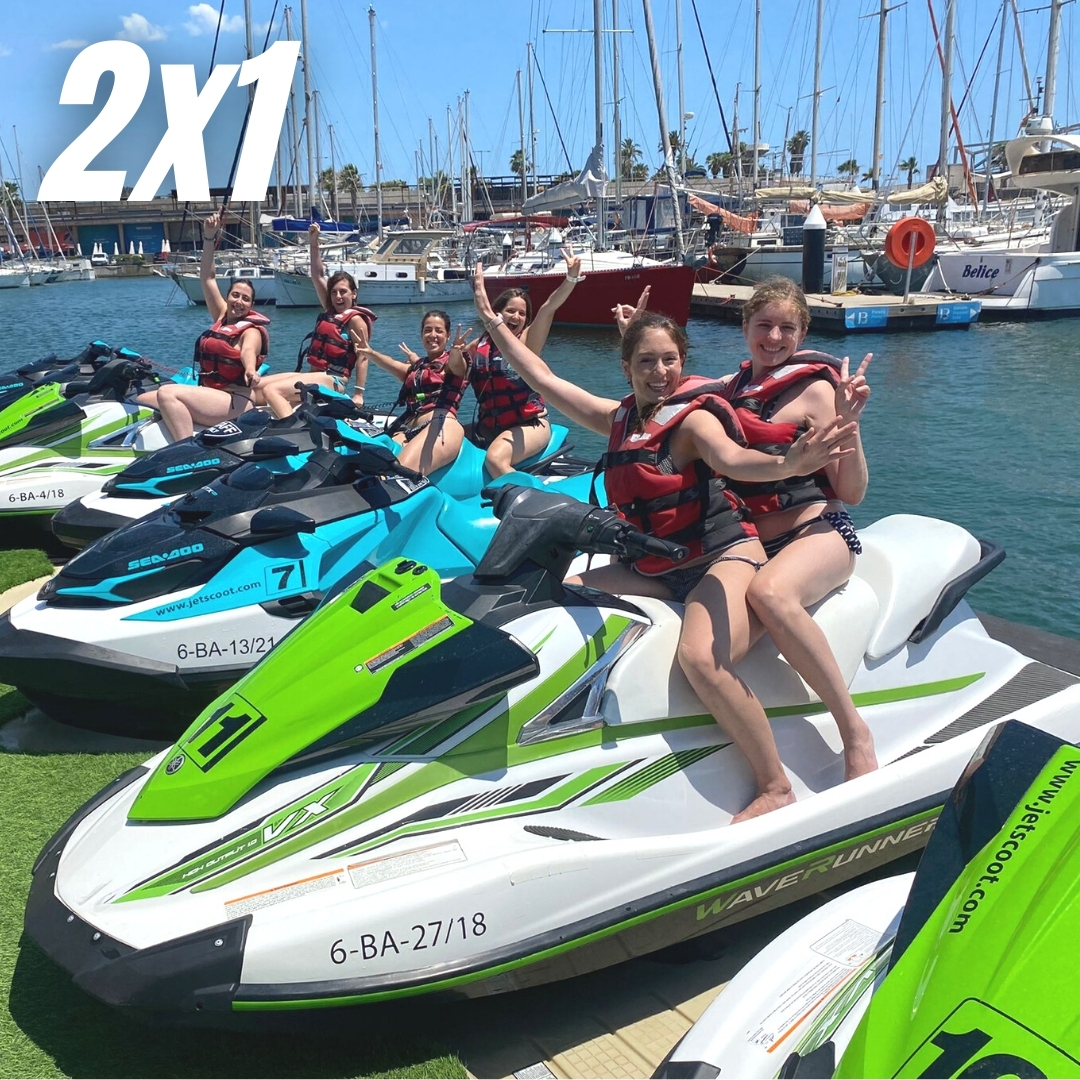 Where will we be?
The departure will take place in our local JetScoot located in the Port Fòrum of Barcelona, a modern port and sport built a few years ago.
It is relatively close to the Diagonal Mar shopping center and can easily be reached by car or public transport such as metro and tram.